Christian Castle
Lifeguard Olympics
August 1, 2021- Wet-n-Wild Waterworld 7am-11:30am
The Lifeguard Olympics is a competitive, annual event that provides lifeguards from organizations throughout the city an opportunity to practice lifesaving skills. The competitive event will highlight the training and duties that lifeguards experience on a daily basis in their day to day jobs.
Christian_Castle_Lifeguard_Olympics_Rules_2019_o_pdf.pdf
2016 Lifeguard Olympics Video
---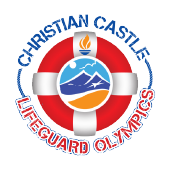 July
8:00 AM - 12:00 PM | Check in at 7:00 AM
TEAMS CONSIST OF 4 LIFEGUARDS WITH A MINIMUM OF ONE FEMALE AND ONE MALE
ENTRY FEE IS $35 PER TEAM, DUE AT ONLINE REGISTRATION
---
---
Register Now!
Fill out the form below to register for the Lifeguard Olympics. The registration fee is $35.
---